Introduction to Water Polo - Adult Co-Ed Group - Sundays - May-June 2023
$80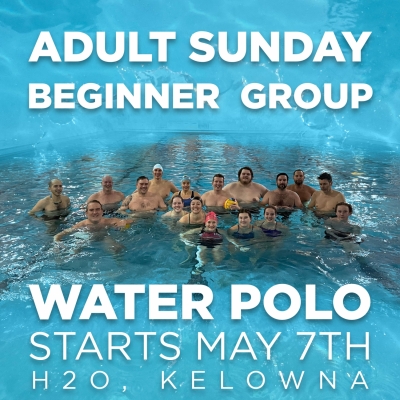 An introductory water polo group for new adult palyers.
We are a growing community club and welcome adults of all ages and abilities who want come out to learn and play the game!
These sessions are fun and welcoming way to learn the game of water polo!
Can't wait to see you at Water Polo practice!!
Register Now: REGISTER FOR BEGINNER ADULT WATER POLO
Day & Time: Sunday 7-8 pm
Group: Adult Beginners New to Water Polo
Age: Born 2004 or earlier
Location: H2O Adventure + Fitness Centre, 4075 Gordon Dr, Kelowna, BC V1W 4Z1
Description: A program for beginner adults who are new to water polo. If you want a great introduction to the fundamentals of the game then join us in the pool. You will learn the swimming skills, ball skills and rules of the game in this beginner group. This program is taught in its own pool space at the H2O.
Cost: $80 (+$26 yearly Water Polo Canada & Water Polo West Registration valid until August 31st 2023)